X100 - Stereo Amplifier 125 RMS per channel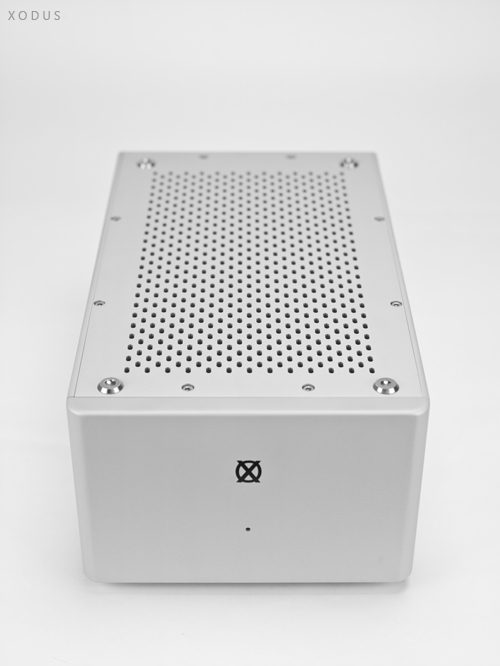 The X100 has very sturdy compression speaker terminals which allow for excellent connectivity and are spaced well apart offering room for large speaker ends. The chassis construction is of aluminum plate precision milled with stainless steel inserts on the top panels for ease of stacking. The finish is labor intensive which includes hand sanding, hand fitting and finally a specialty aluminum finish to achieve a velvety satin surface.
The X100 is compelling with its simple front plate with a RGB LED for user feedback embedded in the logo and a single power on/off button on the bottom edge of the front plate. The X100 is auto-signal sensing and has 2 RCA analog inputs, 2 XLR analog inputs and very sturdy compression style binding posts for exceptional connection to bare wire or spade speaker connectors. The power entry module is EMI controlled and has an integrated on/off switch.
The overall dimensions of the unit are 220mm (8.66in) wide by 350mm (13.78in) long by 155mm (6.10in) tall.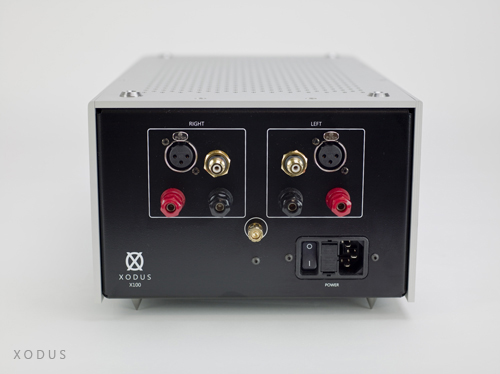 The X100 Stereo Amplifier will run at 125 Watts continuously with peak power output well over 500 Watts. Xodus amplifiers are a high-bandwidth design and the X100 has a range in the MHz's.
Existere
The X100 stereo amplifier was specifically built to be very robust and reliable but at the same time not compromise performance. In addition, we wanted a simple yet sophisticated form factor that was to be half standard component width.
The Xodus team took the challenge and developed a product that has extreme frequency range as well as lighting fast response based. The X100 monitors temperature, voltage, DC, and current all in real-time and will protect itself from many faults that would turn lesser designed amplifiers into blue flames.